Sacred Sounds of Yoga
Filmed at the International Yoga Festival in Rishikesh, India.
Birth Of A New Way
A message of upliftment and possibility.
Devaa Haley's music style can be described as world sacred music, inspired by many traditions across the globe. Many of the songs are originals written by Devaa, using more traditional sounding chants and lyrics overlaid on top of more modern ambient grooves. Some of the songs are rooted in the Hindu "kirtan" tradition, which uses Sanskrit mantras in a call and response format.
Devaa's music is intended to express the glory of God/Goddess and love for Spirit embodied in us all that surrounds us. This devotional music sinks deeply into our hearts to give us the experience of different aspects of the sacred as expressed in many spiritual traditions. The songs are intended to engage the listener and evoke a deep state of "beingness." The simplicity and repetitive nature of the music allows the sacred qualities evoked through melody, rhythm and heart-felt expression, to take root in the listener.
A major theme in Devaa's music is the exploration and expression of wisdom and power of the sacred feminine. She works with different aspects of the Goddess from multiple traditions including Hindu, Sufi, Buddhist, Christian, Jewish, Pagan, African and other Earth-Based traditions. Devaa often sings accompanied by the harmonium (a traditional Indian pump organ), but her music is layered with many other instruments and talented musicians who offer their voice, drums, base, guitar, flute, harp and saxophone–among others–to enhance the experience.

Sacred Alchemy is a breakthrough album for the awakening and liberation of the Divine Feminine, bringing ALIVE 13 faces of the Goddess with songs that range from sexy and untamed to reverential and tender.
The full Sacred Alchemy album, celebrates and embraces the feminine spirit from diverse traditions, including Tara, Pele, Kali, Isis, Mary Magdalene, Shekinah and MORE! The Shakti power will move through you with this album, which is designed to help you ignite your radiant, soulful self.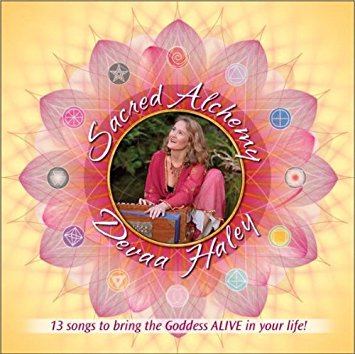 If you long to live with passionate fullness as the radiant being you are, this is YOUR album, an initiation into the Full-Spectrum-Feminine that is surging into power around the world.
Sacred Alchemy Album Review
Michael Diamond | michaeldiamondmusic.com
Although "kirtan" or Indian devotional singing has existed for centuries, it has been enjoying a renewed popularity, especially in the new age community. The music of Devaa Haley, which finds some of its roots in this ancient tradition, also brings a contemporary perspective to the mix. The thematic vision of "Sacred Alchemy" is the exploration and expression of wisdom and power of the sacred feminine. The album musically reflects 13 faces of the Goddess, including including Tara, Kali, Mary Magdalene, Isis, Aphrodite, Pele, and others. While some of the songs lean towards the traditional, others include ambient grooves, electronica, and world percussion. I found this synergizing of various influences to be most appealing and I especially appreciate the tangible spiritual energy that permeates each and every track.
In addition to Devaa's heavenly heartfelt vocals and harmonium (an Indian pump organ), the album features a cast of incredible musicians and singers including Suzanne Sterling, Sarah Eden Davis, Sonja Drakulich from Stellamara, and others. Also of note is an all-star group of producers including Geoffrey Gordon, Ben Leinbach, and Christopher Krotky who also lent additional music support on keyboards, guitars, percussion, and more. The music has been described as ranging "from sexy and untamed (great for dancing) to reverential and tender (perfect for yoga)." Devaa Haley breathes new life and fresh energy into the devotional music of kirtan, and imbues it with her own unique perspectives on Goddess archetypes.

Devaa Haley's music blew me away!
What a marvelous collection of songs for my heart. When I awoke this morning, I was feeling blue, and more traditional spiritual music didn't touch me like Devaa's music did!
Diane, fan of Devaa Haley
Loved it!
Complex and beautiful musically. I especially loved 'Saraswati' and 'Aphrodite'.
Max Morath, composer and musician
Refreshing and Captivating
Listening to Devaa's music is refreshing and captivating. I play it to tone for my daily endeavors, and it evokes my gratitude to Spirit.
Zen DeBrucke, author of The Smart Soul and founder, Smart Soul Academy
Beautiful!
Devaa's voice is beautiful and I totally enjoyed the entire album.
Arielle Ford, Author of The Soulmate Solution
Delightful!
Enter the ancient Goddess temples with these haunting chants that will immerse you in the delight and power of the sacred feminine.
Anodea Judith, PhD, founder and director of Sacred Centers and author of Wheels of Life: A User's Guide to the Chakra System
If you want a deep sweet breath of the intoxicating beauty of the goddess,
listen to Devaa's gorgeous new CD. She will inspire your divinity with her beautiful music!
Regena Thomashauer (aka "Mama Gena")
This is essence-music,
straight from the heart, created to give you a deeper appreciation of yourself and your spiritual depths.
Gay and Kathlyn Hendricks, authors of Conscious Loving and Lasting Love
Devaa Haley gifts us with sexy, ecstatic new music called Sacred Alchemy.
Like the great mystical teachers of old, musician/healer Devaa speaks with a voice that's yearning for the light, and she succeeds in taking me along with her.
Barnet Bain, film producer of What Dreams May Come and The Celestine Prophesy
Devaa Haley has created an intoxicating brew of reverence and beauty,
opening our hearts and inspiring our spirits. This is created for the devotional heart that would like to be more present, integrated and connected to the Sacred."
Gary Malkin, Emmy award-winning composer and transformational media producer, founder of Wisdomoftheworld.com
The album is fantastic!
Beautiful, haunting music. I'm loving it!
Christiane Northrup, MD, Author of Women's Bodies, Women's Wisdom
What a refreshing and captivating sound experience.
I love the musical journey Devaa takes us on. Her voice and the rich harmony are just delicious. Wow!
Kym Yancey, former gold record winning composer/producer with Capitol Records, co-founder & president of eWomenNetwork