Developed by; Devaa Haley Mitchell, Elayne Kalila Doughty & Ariel Spilsbury. While the world faces many crises, never before have women had so many tools, resources and freedoms to wake up and consciously evolve ourselves, and the world around us. We can sense the incredible possibilities that lie ahead, and we believe the time is NOW to empower conscious, powerful and brilliant women to help midwife this new era and give birth to their soul's calling.
Through our own inner and outer transformational work, we've become adept at tapping into the enormous powers of the archetypal world to generate positive shifts in our own lives and begin making our greatest impact, helping thousands of women transform their lives.
The Soulful Women 13 audio meditations offered here, along with the accompanying workbook, allow you to tap into each of these potent feminine archetypes. Get ready to unleash new parts of your being and supercharge your life.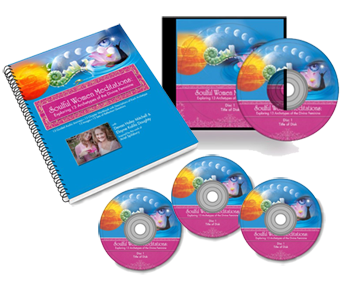 Program Contents:
4 CDs with 13 meditations (approx 20 mins each); 56-page Guidebook with 13 color archetypal images.
Normally $125 – NOW JUST $75 – Save $50!
For a Limited Time Use Promo Code: Devaa
(enter promo code when prompted during checkout)