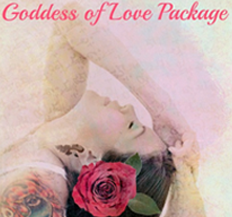 Overview
In our western culture so many of us spend a lifetime looking towards a romantic partner as the source of the deep love we long to feel in our lives. But how do we tap into that deep wellspring of divine feminine love that is universal? How do we tap into that energy on a regular basis so we can deeply fill up our own cup to overflow? And how do we come to know OURSELVES as love itself?
This new Goddess of Love Package is designed to be a sacred space for you to connect more deeply with the Goddess of Love and bring her sweet, kind, and nurturing energy straight into your heart. I will personally love you up, mentor you, and support you in anchoring this energy into the depth of your being. Plus you'll have access to my wonderful Beauty Way course, which is not currently available elsewhere.
Background
If you are anything like the rest of us, you may sometimes feel that who you are is somehow NOT FULLY LOVEABLE. Perhaps you feel we have some major character flaw, or your body doesn't look quite how you want it to (a little too much cellulite, a bit too many wrinkles, the circles under your eyes are too dark). Perhaps you are feel disheartened that you don't have a big sex drive or that your energy is flagging. Or something else feels off, and you feel it makes you less attractive or less loveable. The list of our self-critiques goes on and on.
But there is a way to gently melt these barriers so you can both really give and receive the love you desire, both from the Goddess herself as well with other human beloveds. And I (Devaa) am here to be your loving guide along the way.
Package
This package has 2 components. The first is heart coaching with me, to assist you in diving deep and reconnecting to the Goddess of Love Energy. And the second is the Beauty Way course I developed, in collaboration with a number of my wonderful colleagues. Taken together, this package can deeply support you in being all that you can be.
Transformational CoachingHere's what you can expect from this package:
* Find out the LOVE MYTHS that have been governing your own life – and how to disentangle from them
* Understand how to be more magnetic to attract the things you truly desire
* Learn a process to clear some of the barriers to your heart, so you can truly feel loved
* Take home self-nurturance practices to feed your inner feminine FIRST!
Let me describe each of the components in more detail below.
Heart Coaching with Devaa (2 sessions)
Where in your life are you longing for more intimacy and connection? What is your love language? What are the ways you protect your heart to avoid suffering? And what will it take to gently relax into the soft petals of your heart?
If you are considering doing some heart coaching with me, you are likely someone who knows that you are here to be an amazing, radiant being. You're self-aware, motivated, passionate, and inspired to make a difference in the world, touch more people, and be the brightest light you can be.
But inside you may long for deeper intimacy and connection. You may have a sense that your heart is a bit guarded and protected, and you want to open up. But you aren't quite sure how to really trust and let love in. You may have experienced a major heartbreak or some sort of trauma in your life. You may feel a bit stuck or lonely. And you want to experience more of the love you know is possible in your life.
I get it. I am someone who barricaded my own heart behind an iron wall after suffering deep heartbreak through my parents divorce. From the period of ten to twelve years old, I watched my parent's marriage fall apart, and it truly broke my heart. I watched how much they each deeply suffered. Each time they fought, it was like a knife go through my stomach. I watched my Mom totally fall apart, until she was on the verge of a nervous breakdown. I had to grow up. FAST. And I told myself that I would never let anyone hurt me the way I saw them hurt each other. So I closed my heart for many years. And I was indeed able to protect my heart from feeling more pain. But the other truth (that I didn't like to admit) was that I felt quite alone.
So I decided it was time to break down the wall. But how to do it? It's not such an easy task when trying to do it on your own. So it took a long time to open back up again. Luckily, along the path of healing my own heart, I learned a wide variety of powerful tools, visualizations, and exercises that I am eager to share. But more importantly, I gained an embodied understanding of how to transmit the love I was seeking to receive. Years later, after working with hundreds of women and introducing them to the Goddess of Love energy, I have seen incredible blossoming in my clients through our sessions together. And I want to keep sharing this love because I KNOW it's so deeply needed now in our world. It truly makes a difference!
So it would be my pleasure and my joy to offer you my loving presence, to support you to deepen your connection to Spirit and the Goddess of Love archetype, in service of giving and receiving the love you deserve – even in the midst of life's toughest challenges.
I will personally support you to become a force of love and aliveness to be reckoned with, so you're available to show up and give your greatest gifts in each moment. Together we will activate the power of your heart, so you can share it openly and freely. It's time for you to change the world with your loving presence and move mountains along the way.
Beauty Way Course
The second component of this package is the Beauty Way course, which offers a spiritual path and a new way of living. The Beauty Way is a lens through which we can see and experience life as a woman. It is an invitation to create beauty, to look for beauty, to live AS beauty in terms of the way we treat others and ourselves.
The eight-session Beauty Way course includes:
(Session 1) Connecting to our True Beauty with Devaa Haley Mitchell
Explore what beauty means to you and learn how to have more of it in your life.
Discover your personal "beauty keys" for unlocking your own heart and enjoy the boundless joy waiting for you.
Identify what has been in the way of your expressing your deep soul beauty.
(Session 2) The Power of Pleasure with Sabine Grandke-Taft
Learn ways to find instant pleasure that costs nothing and changes your life.
Understand how your own pleasure is your most powerful feminine gift to yourself and the world.
Reconnect to your sensual awareness the prerequisite for a fulfilling sexuality.
(Session 3) Expressing Your Radiant Essence with Devaa Haley Mitchell
Experience a step-by-step process to connect with your radiance at a body, mind and soul level, and begin to live from this place.
Enjoy the "Rite of Real Nurturance" and open to new realms of ecstasy.
Find new ways to express the beauty that you ARE, and find deep fulfillment in doing so.
(Session 4) Body Embraced with Neelama Eyres
Uncover a deeper relationship with your body that is built on trust, intuition, awareness and healing.
Experience freedom from the history and judgments associated with your body.
Find "right relationship" with your body, which automatically creates beauty and balance both inside and out.
(Session 5) Opening to Intimacy: Embracing the Love, Lover & Beloved with Chameli Ardagh
Know that the love that you are seeking lives inside of you. Learn practices that will support you in experiencing this truth-and notice the liberation you feel!
Deepen your connection to your own your feminine receptivity, so you can fully let love IN. Rest in your "feminine soul center" which is magnetic and attractive.
Participate in a process that will prepare you for a soul marriage with your true beloved—yourself.
(Session 6) Exploring the Shadow Side of Beauty with Devaa Haley Mitchell & Elayne Kalila Doughty
Understand the ways that the beauty industry is devastating our bodies and our planet with its harsh chemicals and unsustainable practices-so you can make more informed choices about the products you consume.
Take a self-inventory of the shadow aspects of beauty that are likely holding you back from finding deep fulfillment.
Experience less shame and guilt around your own shadow side of beauty as these topics are brought into the light.
(Session 7) Claim Your Crown: How to Show-Up as Your Authentic Feminine Self with Liana Chaouli
Learn to make a statement about who you truly ARE and how you show-up without even saying a word.
Discover how to reflect your authentic self through your presence and your wardrobe.
Find out how to attract other people to you by wearing clothes that invite, rather than distance others.
(Session 8 ) Celebrating the Beauty that We ARE with Devaa Haley Mitchell
Learn the "Soul Beauty Rejuvenation Practice" for times when you need a quick beauty lift.
Design your personal "Beauty Aid Kit" to support you in maintaining your radiance over time.
Two Payment Options:
$700.  Discounted Single Payment of

$447

. Save $253 from the original price! Sign up now and get access to this reduced pricing while it lasts!
$800.  Discounted Installment Plan with 3 payments of $165.67 (total cost: $497).  Register for this discounted pricing while it lasts!
Please follow and like us: