Every time I am invited to a potluck (which is quite often, actually!), I often bring the same dish: my sister Dana's kale salad.  And the reason I always bring the same thing is because people ALWAYS love it and ALWAYS ask me for the recipe. So I decided to just pop the recipe up here on my blog! Enjoy!
Dana's Delicious Kale Salad Recipe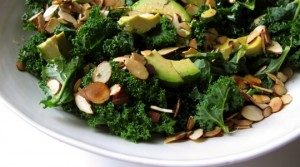 Use curly kale or dinosaur kale (I usually use 2 bunches for the amount of dressing you'll make using the recipe below).
Rinse well, chop finely, place in bowl. Add desired nuts (almonds, pine nuts, pumpkin seeds/pepitas, almonds, pecans all work well). Add cheese if desired (feta or blue are good).
Add dried fruit (cranberries or goji berries both work well).
Add dressing (see details below).
Optional: add avocado.
Dana's Dressing
In a separate bowl, mix the following (modify the quantities below to your liking. Use more oil to make it milder, more tamari for salt, more mirin for sweetness.
¾ cup olive oil
½ cup nutritional yeast
1/3 cup of braggs amino acids/tamari/soy sauce
2 whole squeezed lemons
1-2 cloves of minced garlic
A dash (or more) of mirin rice wine vinegar for added sweetness (optional)
Sprinkle extra nutritional yeast on top once the salad is made…)
Please follow and like us: