Reposted from the Marin Mommies Newsletter, Article and recipe from Pamela
I'm a big fan of cooking with pumpkin, which is one of the reasons I love the fall. Pumpkin soup, pumpkin muffins, pumpkin bars, pumpkin ravioli—they're all delicious. My kids' favorite are these pumpkin oatmeal cookies, which are chewy and, I like to think, actually good for you. These cookies are a great treat for the lunchbox too.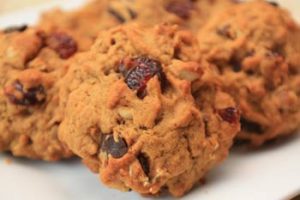 I mix in in dark chocolate chunks (chocolate chips work equally well), walnuts, and dried cranberries to make them more interesting. They're also fantastic with toasted pumpkin seeds instead of the walnuts. In fact, feel free to use whatever you like to mix in: white chocolate chips, raisins, dried cherries, and pecans are all good.Ingredients
2 cups all-purpose flour
1 teaspoon baking soda
1 tablespoon ground cinnamon
1 1/4 teaspoon pumpkin pie spice
1/4 teaspoon kosher salt
1 1/2 cups old-fashioned rolled oats
1 cup (2 sticks) unsalted butter, melted
1/4 cup dark molasses
3/4 cup dark brown sugar
1/2 cup granulated sugar
1 egg
1 cup pumpkin puree
1 teaspoon vanilla extract
3/4 cup chocolate chunks or chips
1/2 cup dried cranberries
1/4 cup of crushed walnuts
Preheat oven to 350ºF. Line a baking sheet with parchment paper and set aside. In a large bowl, combine flour, baking soda, spices, salt, and oats.
Melt the butter in the microwave in a medium size bowl. Whisk in the molasses, brown sugar, and granulated sugar until combined. Whisk in the egg, then add the pumpkin and vanilla and continue to whisk until mixture is thick and combined completely.
Pour into dry ingredients and gently mix until just combined—don't overmix. The dough will be very thick and sticky. Fold in chocolate chunks, cranberries, and nuts.
Spoon cookie dough onto prepared baking sheet, about 2 or 3 tablespoons of dough per cookie. Slightly flatten the help the cookies spread in the oven. Do not flatten completely. Bake for 12–15 minutes or until very lightly browned on the edges but still soft in the centers. Enjoy!
Please follow and like us: